Heat Press Machines from Stahl's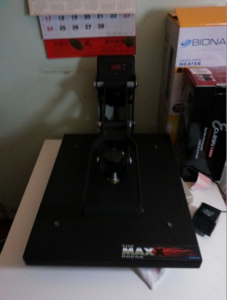 Heat press machines are quality machines that come in varied sizes, models, makes and styles to transfer heat materials to substrates. They apply the heat press or heat transfer printing technique, which involves the process of transfer of heat applied materials to a number of items or materials with the use of heat press. The process of heat printing can be used as a replacement of garment decorating techniques such as screen printing and direct to garment printing or be used as a supplement for them. Thus, this kind of machine is highly necessary, especially for those who desire to set up a T-shirt business that deals with printing.
Stahl's Heat Press Machines
At Stahls', a wide range of hotronix machines that include the heat press machines are produced. These hotronix hot press machines from Stahls' are produced and engineered by experts. They provide you with the opportunity to make orders for a number of heat press machines, materials that transfer heat and services that offer customs cutting for the main purposes of garment decoration.
How to Select a Suitable Heat Press Machine
There are three major recommendable products from Stahls'. They are mainly known for their top notch and quality services. These are:
Auto Clam
The hotronix auto open clam hot press is suitable to meet the dreams of any individual who likes to multitask. This is because it helps to avoid over application as well as ruined garments. It is available in three main sizes which are 16X20 inches, 16X16 inches and 11 X15 inches. It possesses a wide opening that provides the opportunity for easy layout. Additionally, most of the gadgets on it are easy to use and read. These include the displays for digital time, pressure and temperature that provide consistent printing. Besides this, it is made of a design that helps to save space. Therefore, some of its benefits include:
Its ability to open automatically,
Elimination of fatigue to the operator,
Easy operation,
Availability of digital readouts
However, some of its disadvantages include:
The lack of platen consistent temperature
No interchangeable platens
Not suitable for use on thicker items
Fusion Heat Press
Fusion heat press is considered as the most advanced heat press in the world. It is the first machine that is equipped with touch screen technology as well as the only one with original dual function. With this level of technology, the machine provides you with the advantages brought about by the combination of draw style and swinger heat presses. Both of these technologies offer an opportunity for the user to operate on a workspace that is free from heat. Thus, some of its benefits include:
Dual functionality with swing and draw motions
Easy operation
The design of EZ-on platen
Layout space that is heat-free
However, some of its weaknesses include the fact that it operates on new technology that has not been proved.
Swinger
This air swinger heat press machine is most appropriate for productions that involve high volumes. It includes some of the suitable features, which include top-down pressure, in addition to displays of digital time, pressure and temperature. It is mainly found in the 16"X20" heat press size and is mainly operated by an air compressor. Its main benefits include:
Its ability to reduce operator fatigue
Allowance of full access to the design and substrate on the lower platen
Ability to be used on thicker items that include jackets and sweatshirts.
Its disadvantages include its use of more space as compared to a clamshell.
Conclusion
In order to make as much profit as possibly expected from a t-shirt printing business, it is vital that you are able to purchase and use the most appropriate machines and equipment. This is mainly in relation to the heat press machines that play a fundamental role in the printing process. These can be determined and revealed through the performance of comparative buying as well as searching for various reviews that have been provided by both users and initial users.
However, Stahl's, which is one of the producers and dealers in heat press machines, also assures you of quality and excellent services from their products. It is a good opportunity to get quality heat press machines that are not only durable but also versatile and multifunctional.