Heat Press Machine of T-Shirt Printing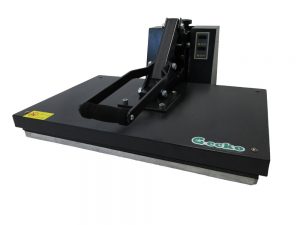 T-shirt printing can be an enjoyable project, especially considering the fact that design ideas can be turned into customized t-shirts for clubs, companies, schools, teams, etc. T-shirt printing makes it possible to use original artwork to design t-shirts. However, for anyone who wants to make sure they walk away with a great customized t-shirt without breaking bank, it is important to understand how custom printed t-shirts are produced.
Different Methods Of T-Shirt Printing
Typically, manufacturers who print custom t-shirts use one of the following four procedures:
Direct to Garment printing onto white t-shirts is consistent, cost-effective and fairly rapid since there are barely any set up costs. A white underbase is needed for dark t-shirts onto which the design is printed.
Also known as vinyl transfer printing, it is a very durable custom t-shirt printing method. A custom mirrored t-shirt design is cut out from a vinyl sheet using a digitally-controlled cutter and is applied via heat, while the clear liner is peeled off.
T-shirts available from the high street are usually screen printed. Plasticol inks are used to print designs onto the t-shirts and a heat tunnel curing process is used to seal the designs. However, a unique screen has to be used for each color.
This should bring those transfer tattoos to mind. High quality and professional transfers can be produced with this cheap option in which a high quality heat press machine is used to apply designs printed on a laser printer.
Hot peel method is the way to go. Considering that heat press machines seem to be an integral part of various customized t-shirt printing procedures, here is a look at the top 3 choices.
Heat Press T-Shirt Printing Machines Recommendations
PowerPress 15-by-15-Inch Digital Sublimation T-Shirt Heat Press
This is one of the brand new models from PowerPress. This industrial-quality 15 x 15-inch heat press features several improvements in comparison to previous models. For instance, the heat platen is coated and it also includes coated sheet. PowerPress has also glued down the rubber base. This is a compact heat press and is a model that opens upward, so space can be saved.
This machine is ideal for the application of images, letters, numbers, and transfers not only on t-shirts, but also bags, ceramic tiles, garments, ID badges, jigsaw puzzles, mouse mats, and other items. According to customers, this machine is very solidly built, and they found its countdown timer as well as the digital temperature display very useful. Even though the base is glued, the silicon rubber might peel off easily.
Gecko 15-Inch by 15-Inch Heat Press Machine
This GK-101 PRO heat press machine from Gecko has a built-in 15 x 15-inch not-stick heat platen that features a complete range of heating coils that maintain consistency throughout its surface. Using this heat press, all types of heat transfer materials can be applied onto garments, as long as they are no more than 5/8-Inch. The digital timer control can be adjusted up to 999 seconds. Once the time that has been set is reached, the timer device automatically rings and the handle can be lifted to reset it.
A digital temperature gauge is also featured in the GK-101 PRO that ranges between 0 Degree F and 575 Degree F. Even though the handle is manual, it can has a spring assist that makes it easier to open and close it, while there is also a pressure knob at the rear of the heat press that can be adjusted. Much like any of the other heat press machines from Gecko, this one is also CE certified.
Professional 8 in 1 Multifunction Sublimation Heat Press Machine
American Specialty Tool brings this commercial-grade heat press, which includes 8 elements using which custom hats, license plates, mugs, t-shirts, and many other fun and unique items can be created. This machine makes it possible to transfer onto a myriad of surface materials, such as ceramic, fabric, glass, metal and wood. Since this heat press has a swing-away design, so pressure is directed straight down as a result of which transfers are applied more evenly.
T-shirts can be easily inserted and removed from this machine because of the aluminum elevated lower platen. Scorching of transfers is also prevented because of the Teflon-coated, non-stick elements and no separate Teflon/silicon sheet is required. Finding the appropriate pressure and temperature for different types of transfers might turn out to be tiresome.
Conclusion
A heat press machine is an essential piece of equipment for anyone starting a T-shirt printing business, and happens to be central to the success of the business. Therefore, choosing the best machine is vital, and above were the top three choices that are worth considering.