Gecko Heat Press Machine Review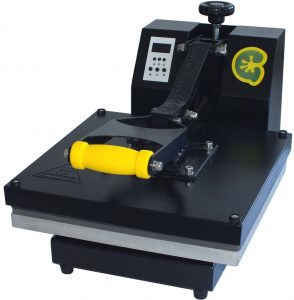 The Gecko 15×15 Heat Machine is designed to provide professional results for business folks looking for a simple, durable, yet affordable heat press suitable for small to large orders(20+)
Anyone in the garment business knows the importance of heat pressing when it comes to different garments. This makes it important for garment business owners to own heat press machines that makes pressing easier and faster while at the same time eliminating losses that that are associated with traditional pressing methods. And will know how much benefit of using a heat press machine on t-shirts and other small garments.
Features
15 x 15 inch built-in nonstick heat platen with full range heating coils
Steel outer frame built to ensure durability and high performance
Digital time and temperature gauge
Silicon pad built to withstand high temperatures
Adjustable pressure knob that allows adjusting of the top plate up-to 1.5 inches above the resting plate
Is compatible with different types of transfer material like standard, inkjet, sublimation, laser, rhinestone, plastisol, and color copier transfers.
Is designed to transfer heat to t-shirts and basic garments like place mats and tote bags
59 lbs. in weight and 1800W power
Pros of gecko heat press machine
The gecko heat press nonstick 15 inch platen comes with heating coils that allows even distribution of heat to throughout the surface and ensure that garments do not get scorched. The 15 x 15 platen is neither too large nor too small making pressing for small to medium sized garments easy. The digital time and temperature gauge sounds once the set time is set to ensure that garment quality is not compromised.
The heat press comes in a steel frame that is designed for long term use. All other parts are also made of quality materials that ensure the press can be used every day with minimum wear and tear.
With a spring enhanced handle, adjustable pressure knob, and simple design, the gecko 15 x 15 heat press is easy to use.
At a price of less than $ 300, this press is reasonably priced especially due to its efficiency and durability even with every day use and large production orders.
Cons of gecko heat press machine
The gecko heat press, 15×15 heat press machine is a relatively light weight machine, making it less durable after using it over a period of time
The press might be a bit pricey for small scale use, for example in a home set up where heat pressing might be necessary only in few occasions.
Conclusion
All things considered, the Gecko 15 x 15 heat press machine is a worthwhile investment for any business owner in the t-shirt of other small garments business. Built to last and make heat transfer fast and convenient, and priced reasonably enough to be affordable to most if not all small business owners, the device is ideal not only for those in the t-shirt business but for business owners dealing with many other simple garments as well.
Get the Gecko 15 x 15 inch heat press machine if you never want to think about scorched garments and loads of back breaking hours spent pressing garments every day.