Heat press Machine of 6 in 1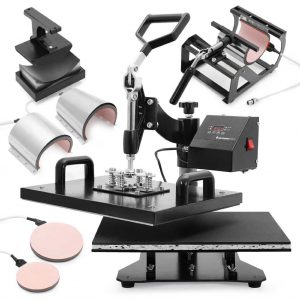 At the moment, there are already a lot of 6-in-1 Heat Press Machine to choose from. In fact, there is too many that it can be a source of confusion and maybe frustration. To help you with that, this article is going to tell you the features and two brand about the machine.
So you are thinking of printing your own mugs, caps and shirts? You can do that separately with different machines and tools. However, did you know you could print mugs, T-shirts and caps using just one tool? These tools are called 6 in 1 heat press machines. For some, you already know that fact.
How to choose A Good 6-in-1 Heat Press Machine for yourself
There are a lot of factors when it comes to choosing the right 6 in 1 Heat Press Machine for you. You may be using it for personal use or a home-based business; therefore you have your own unique sets of requirements.
It's best that you assess your needs and buy the one that can satisfy those needs effectively and efficiently. However, at the very least, you should assess a 6 in 1 Heat Press Machine based on:
Heating
since you are buying a heating press, then you should consider the overall heating capability. There are basically two things that you need to consider in relation to heating capacity.
First, take note of the maximum temperature the unit can produce. Having the maximum heating capacity is not necessarily good, as you might need additional special equipment for handling. Just get the one that is able to handle your needs.
Second, the speed the machine heats up is also a big factor. If you are running a booming business, then the waiting time before the machine heats before use up may be critical.
Size
Another factor that you need to consider is the size. Some 6 in 1 Heat Press Machine is designed to be bigger or smaller than others. So how do you choose the right size? As a rule of thumb, the bigger the 6 in 1 Heat Press Machine, the easier it is to handle.
On the downside, it will require a large working space. Therefore, it is best that you assess your working space and get the one that allows you to work comfortably.
Also, the size of the heating elements is another thing to consider. As a general rule, the larger the sizes of the heating elements, the more area you can handle (area of the T-shirts, mug or cap for printing).
What It Is Used For
A 6-in-1 Heat Press Machine is a tool that you can use to print designs and images to mugs, shirts or caps. The package contains 6 heating elements. From these 6 heating elements you will be able to print on any blank product item as long as it can fit and can be effectively printed on. A few examples of these are glass, ceramic, metal, wood, T-shirts, hats, mugs, license plates and mouse pads.
6 in 1 Heat Press Machine Reviews
PowerPress 6-in-1 Industrial-Quality Digital Swing-Away Heat Press
This 6 in 1 Heat Press Machine from Powerpress is one of the most popular for home-based business. It is capable of handling a light load of printing. It is able to comfortable print on t-shirts, hats and mugs. It is of industrial quality with digital interface. It's designed with a swing arm for easy handling. The machine weighs at 85 lbs, so it isn't too heavy and can be brought to trade shows if necessary.
Heating is also very satisfactory. The machine heats up relatively fast and allows you to start printing faster. You can also use this with tiles provided you have the right kind of transfer paper. The machine also works with heat transfer vinyl.
On the downside, this 6 in 1 Heat Press Machine is not really designed to handle huge loads of work. If you are looking for a 6 in 1 Heat Press Machine that can handle bigger loads, then this is not it. It also doesn't have auto open function.
Promo Heat Professional 6 in 1 Multifunction Sublimation Heat Press Machine – Model PRO-6100X
This 6 in 1 Heat Press Machine comes with a swing design, and it's easy to work with. The main benefit of this product is its ability to provide an even press. It's also designed in a way that you won't need an extra silicon or Teflon sheet.
It is also operated digitally, and the units automatically stop when the desired temperature is reached. This machines weigh 95 lbs and is not as suitable for moving around. It also works if you want to heat press rhinestones onto your garment. The work space area is about 12 x 14, so it does well with smaller garments but for thicker and bigger sizes such as XL, it won't be suitable.
The downside of this product is that the instructions are done poorly. You may have to get your instructions from other sources aside from the manual. Also do not buy this machine if you want to heat press caps. It is not the best machine for caps.
Conclusion
A 6 in 1 Heat Press Machine is a machine that allows you to print images and graphics to mugs, T-shirts and cap using one tool. It's a good product if you are starting a home-based printing business. However, you should assess a unit's size and heating capability before purchasing.
Also, if you are not quite sure whether you should invest $300-400 dollars, you should check out a starter machine like the Gecko heat press at around $250. However, it is unable to print anything besides garments.