About different T-shirt Printing Method's Pros and Cons
This article is written to show different types of T-shirt Printing Method's Pros and Cons.If you are looking for which method is the best for your t-shirt printing needs, I will break down the different types of methods for you. I will also suggest which one is recommended based on what you are trying to achieve.
Silk Screen T-shirt Printing pros and cons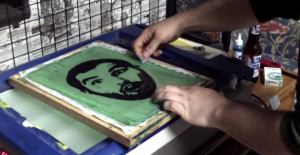 Screen printing is a printing technique whereby a mesh is used to transfer ink onto a substrate, except in areas made impermeable to the ink by a blocking stencil. A blade or squeegee is moved across the screen to fill the open mesh apertures with ink, and a reverse stroke then causes the screen to touch the substrate momentarily along a line of contact. This causes the ink to wet the substrate and be pulled out of the mesh apertures as the screen springs back after the blade has passed.
Basically, it is the process of using a mesh-based stencil to apply ink onto a substrate, whether it be T-shirts, posters, stickers, vinyl, wood, or other material.
Pros
Recommended minimum quantity – 30
Identical designs prefered
Good for up to 12 colors
Very durable and t-shirt quality lasts for a long time
Suitable for other items like bags and sweat shirts
Order in very huge quantities(100+) will save cost
Cons
Very expensive if you are doing low quantity(>30)
Screen printing is a multi-step process requiring different screen for EACH color – Setup time for more complex, multi-colored images are high
Messy if you do it from home
Not suitable for photo production – I suggest digital printing for this one
Small, intricate details are not easily achievable.
Heat Transfer(Direct to Garment or DTG) T-shirt Pringting pros and cons
Heat printing, also known as heat transfer printing, is the process of applying heat-applied materials to various items(t-shirts or other garments) with a heat press. Heat-applied materials contain a heat-sensitive adhesive on one side; when heat is applied by a heat press to the material, the material adheres to the substrate to which it is being applied. The end result is a decorated garment. This method is best done using a heat press machine.
Pros
No minimum quantity
Good for printing different designs
Maximum of 3 colors
Great method for printing event t-shirts
Cons
Not as durable – design might fade off after some uses
More colors = more cost
Cannot layer colors because the t-shirt will become bulky and heavy
Sublimation T-shirt Printing pros and cons
Dye-sublimation printing is a digital printing technology using full color artwork that works with polyester and polymer-coated substrates.
In sublimation printing, unique sublimation dyes are transferred to sheets of transfer paper via liquid gel ink through a piezoelectric print head. The ink is deposited on these high-release inkjet papers, which are used for the next step of the sublimation printing process. After the digital design is printed onto sublimation transfer sheets, it is placed on a heat press along with the substrate to be sublimated.
Pros
Good for full-color designs on light garments, can be used on non-textile products
No feel to ink
Cons
Only works on polyester white shirts and limits your selection
Quite expensive
Does not fully print in all creases – leaving the white blank area on side seams and arm pit area of shirts
A last,i will advise you to choose the Gecko 15×15 Heat machine when you starting you owm T-shirt business.