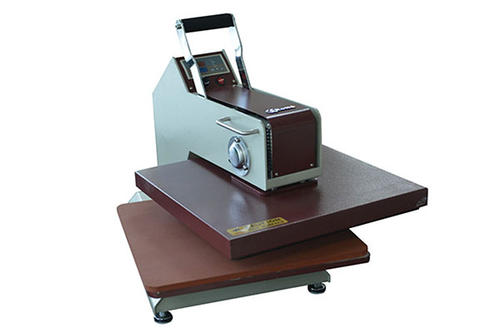 Heat transfer also known as sublimation heat, by any such as portrait, landscape images using thermal transfer ink to print on plain paper or high precision printing paper, through the corresponding thermal transfer thermal transfer equipment within minutes of heating to a certain temperature, the image vivid picture of transfer printing on the paper to the porcelain cup, porcelain, porcelain plate, clothing, metal material, such as a special process
Easy to operate,delicacy printing,low cost.
Low loss of products,high added value,great decoration.
High covering power, strong adhesion.
Comply with the green environmental protection printing standard, no environmental pollution
Heat transfer machine category
Flat stamping machine
High pressure stamping machine
Head – shaking machine
cup – toaster
pan – toaster
hat – toaster
Heat transfer machine's operation
Adjust the thermostat to the desired temperature. When the temperature reaches the set temperature, the indicator on the upper part of the thermostat off, and then the thermostat can start to work.
Adjust the time controller to the required time.
Place the clothes flat on the lower ironing board, then put the hot stamping paper (note the front and back of the hot stamping paper), press the handle down vigorously until the end point. Note: do not exert more than 30 kg, otherwise the handle may be deformed.
When indicating the time of the hot stamping time controller, the buzzer will sound, and the handle will be lifted upward to the original position.
Matters needing attention:
Attention
Pressure: if the pressure is not enough or too large, The pressure adjusting knob can be adjusted to increase the pressure in the clockwise direction; Conversely, it reduces stress;
Time: when the hot stamping time arrives and the buzzer does not sound or keeps ringing, if it is uncomfortable, it must be adjusted to the appropriate position;
3, temperature: when the temperature is reached, the thermostat pointer refers to the position of "180℃" (about 5 minutes to reach), if the starting thermometer rises and the heating plate does not heat, please check the circuit.
When the handle is pressed to the bottom, release the hand and the handle will rise automatically. Please adjust the adjusting knob downward.
When the hot stamping is finished and the handle is lifted upward, the adjusting knob can be adjusted downward
About the technology
Heat transfer technology is a new method for printing patterns on goods of various materials. It is especially suitable for making a small number of diversified personalized and customized goods, as well as printing patterns containing full-color images or photos. The principle is to digital patterns through the printer with a special transfer ink watermark on the transfer paper, and then with a special transfer machine, high temperature and high pressure to transfer the pattern to the surface of the goods to complete the printing of goods.
Heat transfer technology can also use a variety of different transfer materials, to achieve different printing effects, the most important film transfer and sublimation transfer.
Not all goods can be heat transfer to print patterns, involving the heat resistance of goods, smoothness and other factors.
Can be in leather, textile cloth, plexiglass, metal, plastic, crystal, wood products, copper plate paper and other relatively flat material, disposable multi-color, any complex color, transition color printing digital press, it does not need to make plates, color and complex drying procedures, will not cause damage to the material.
The machine has many advantages in your business, it mainly because choose the right steel to produce the machine,like 40Cr, 42Crmo, 40CrNiMo or others. Choosing the right steel allows the machine to have a high level of comprehensive mechanical properties and to meet a variety of and more complex working conditions.